It's up to you whether you want to drive traffic to your site using paid advertising or good old-fashioned SEO (search engine optimization).
But either way, the first step in getting more traffic is to make sure you're targeting the right keywords.
Because it doesn't matter that your blog is on the first page of Google if it's ranking for keywords no one is searching for.
I'm going to show you how you can use a free program called Traffic Travis to get more blog traffic without having to pay for it.
p.s., this will work for ANY online business, not just blogs!
To follow along with what I'm going to show you, download Traffic Travis for free by clicking here.
Why Is Keyword Research Important?
Because if you want to get more traffic, you have to start by targeting a single keyword that a lot of people are searching for. One that also doesn't have too much competition.
And it may sound obvious, but all of your site's content should be also closely related to that keyword.
How To Find "Good" Keywords
Okay, go ahead and fire up Traffic Travis.
Now let's say you want to start a blog about cat training (because there are enough dog training blogs out there).
First:
Click on the "Research" tab and type "cat training" into the search field.
Next:
Click the little grey link below the "Fetch" button that says "Advanced Settings". Make sure the button for "Exact Match" is selected.
By the way, if you already have an idea of which keyword you'd like to dive into for your own blog, go ahead and plug that in instead of "cat training". Now, click the button that says "Fetch".
You'll see a list of results generated:
Now you can start to get an accurate idea of what people are searching for the most. Click on the heading of any column and it will sort your results accordingly. In the example above, I have it sorted from the highest search volume to the lowest.
Filtering Out "Bad" Keywords
When searching for your primary keyword, a rule of thumb is to use one that has a minimum of 200 "Exact Match" local searches per month. Anything less than that, and the small amount of traffic you get won't be worth all the effort you put into your content.
Use the checkbox at the very top to select all of the keywords. Uncheck the ones that have less than 200 searches and then click "add". This will add the "good" keywords to your project's clipboard.
Checking Out The Competition
Before you decide on your main keyword, you want to make sure that it doesn't have too much competition.
If you click on the "SEO" tab, then "Competition", you'll see a breakdown of exactly how competitive your selected keywords are.
In the example below you can see that ranking for "cat training" will be very difficult, while ranking for "how to train a cat" will be pretty easy. That means "how to train a cat" is actually a better choice.
Using Traffic Travis To Find The Perfect Domain Name
After you've figured out which keywords get enough traffic and don't have too much competition, you can check and see which of those have exact match domain names available. This will make it much easier to narrow your options down to your final decision.
To find a domain name that contains your keyword, click on "Domains" under the "Research" tab. Enter your chosen keywords and click "Fetch".
Traffic Travis will automatically generate a list of the domains that have your selected keywords and let you know which ones are available to purchase.
Having your main keyword in your domain name is important because it makes it a lot easier for every page of your site to rank highly in the search engines.
A higher ranking means more traffic, since people are more likely to visit sites from the first page of Google than the 2nd or 3rd, etc.
To recap, you want to pick a keyword that:
Is getting enough traffic
Doesn't have too much competition
Has an exact match domain name available
Once you've decided on your domain and you've set up your blog, you can use the keyword research tool to find related keywords for individual blog posts as well.
Keyword research is the most important first step you can take if you want to get more blog traffic. Traffic Travis does A LOT more than what I've mentioned here. So feel free to play around with it and let me know if you have any questions about any of the features.
There are two versions of Traffic Travis. The main difference between the free version and the premium version is that the latter is a lot more powerful. If you haven't already, click here to download the free version.
If you're considering the Professional version, take advantage of the trial first. You get to use it for seven days for only $1, and if you decide to buy, it comes with a full 60-day money-back guarantee. Click here to try the Professional version of Traffic Travis.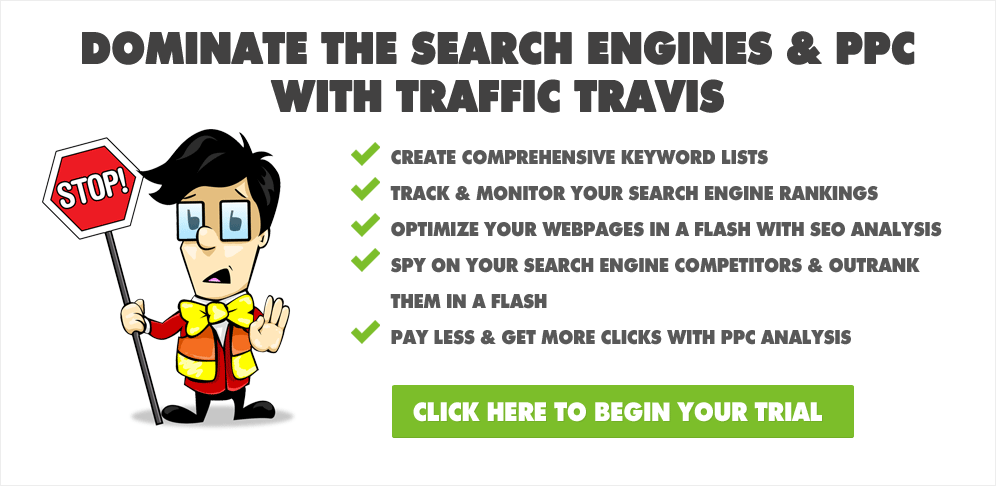 You might also like: